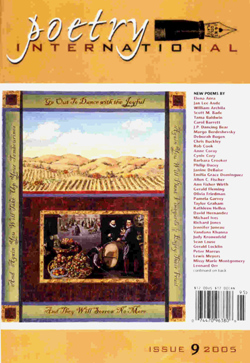 Now Available: Poetry International #9

New U.S poems by Jan Lee Ande, Chris Buckley, Philip Dacey. Ann Fisher-Wirth, Linda Pastan, Charles Harper Webb, and many others | International poems in translation from Mexico, Italy, Spain, China, Columbia, France, Germany, Costa Rica, Italy, and Japan | A special feature celebrating the legacy of William Matthews | The remarkable art of Millicent Tomkins...and much, much, more.

Order now for $12 plus $3 shipping and handling. Send check to

Poetry International
Dept of English
San Diego State University
San Diego, CA 92182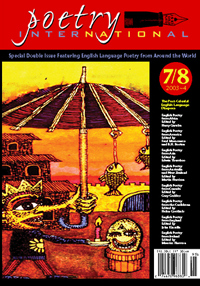 Still Available! Poetry International 7|8 A Special Double Issue

This special double issue of Poetry International was put together by editors throughout the world in order to collect, for the first time, an international sampling of post-colonial English language poetry. It used to be said that "the sun never sets on the British Empire," but though that Empire is long history, the 21st Century version of that adage is that "The sun never sets on English Language speakers in the world." The legacy of that Empire has been the exportation of the language of the British Isles throughout the world, and poets in countries as diverse as Singapore and Ghana have adopted it as their own. Poets represented in this issue include John Ashbery, Gerald Stern, Ruth Stone, Kim Addonizio (U.S.) Kofi Anyidoho, Taban Lo Liyong, Lupenga Mphande (Africa), Agnes Lam, Edwin Thumboo, Cecil Rajenda, Alfian Saat (Asia), Martin Harrison, Jill Jones, Peter Minter, Jan Owen (Australia) Gary Geddes, Don McKay, Patrick Lane, Stephanie Bolster (Canada), Derek Walcott, Kamau Braithwaite, Pam Mordacai, Lorna Goodison (the Carribean) Jo Shapcott, Alan Jenkins, John Burnside, Mimi Khalvati (United Kingdom) Seamus Heaney, Michael Longley, Mary O'Connell, Peter Fallon (Ireland) John Geraets, Paula Green (New Zealand) and many many others. See Table of Contents for details.